OK; now why would I bother to list my Top 10 favorite U.S. beer festivals? The main reason is that at these festivals, one is able to try a multitude of Belgian inspired beers as well as Belgian beers in one location. For my readers that do not have a world-class beer bar in or near your location, a trip to one of these festivals will allow you to try numerous Belgian styles and gain a very good understanding of what the styles are and their characteristics. Please keep in mind that there are literally hundreds of excellent beer festivals all across the North American continent every year; some are yearly events and some are one time festivals; but I have rarely been to a festival that was a total waste of time. My list is of the festivals that I consider being the very best festivals and those that feature a great selection of Belgian and/or Belgian style beers. If I left out some that my readers consider to be better; sorry, but the chance is that I have not attended those festivals; so I am unable to comment.
#1) Great Taste of the Midwest, Olin-Turville Park, Madison, Wisconsin
I am sure to receive some feedback about my pick for number one spot, but I have my reasons. Yes, my number 2 festival is considered the granddaddy of all North American beer festivals. Yes; the GABF is bigger; more beers, more people, more excitement; and it's for those reasons that I consider the GTOM to be my favorite. Sometimes less crowds and less excitement allows me to enjoy m

y beers better.
Over 100 regional brewers converge on Madison the second week of August and spend all day the second Friday of the month setting up their stands in preparation for the festival the following day; some working into the wee hours of the morning. When the event opens the following day, festival goers will be treated to around 1000 different beers in a beautiful park setting overlooking Lake Monona with the Wisconsin capital building on a hill in the background. The Madison Homebrewers Guild limits ticket sales to 6000; some sold at area outlets, but the majority are sold via lottery. So this event is not totally overcrowded as some festivals are. Nor have I often experienced loud drunks, as I have at some festivals. Just a great day of sunshine (most of the time), suds and very nice people. 2016 was the 30th anniversary for the GTOM.
#2) Great American Beer Festival, Denver Convention Center, Denver, Colorado
This is the largest beer festival in North America and the world; if you are considering the number of beers served. The festival ells out in record time and those fortunate enough to get tickets will have the opportunity to sample over 3000 different beers. The festival has 4

scheduled 'sessions' over a three day period and is an energy packed event. 2016 marked their 35th year. Like the GTOM, many of the beer stands are manned by the owners and brewers periodically, so festival goers are able to talk with the creators of some of the best beers on the planet. Yes, it can get very crowded and noisy; but this all shows the enthusiasm of these beer lovers.
#3) The Festival, Anywhere, USA

The Festival, a yearly festival put on by Shelton Brothers, a U.S. beer importer and distributor, had their inaugural event June 23 & 24th 2012 in Worchester, Massachusetts and it was one of the best beer festivals I have ever attended. Brewers from all over the world setting up stands and serving the beers that they brewed unlike most events where volunteers are serving the beers. The inaugural Festival included over 70 excellent breweries from Belgium, Sweden, Norway, France, Germany, Switzerland, Japan, UK, Netherlands, New Zealand, Finland, Canada and the U.S. Attendees were able to sample over 500 different beers during the three sessions including Westvleteren 12 – the first time ever served at a beer festival in the U.S. (No, the brewer was not present.) Every year The Festival is in a different city.
#4) Mondial de la Biere, Place Bonaventure, Montreal, Canada
Whoa! Have I lost my mind? No. I consider Mondial to be my fourth favorite beer festival, and while it is not technically in the U.S.; it is very close to the U.S. and a large percentage of festival

goers are from the U.S. The fact that Mondial hosts over 135 brewers serving over 600 beers makes it a world-class-event and worthy of a place on my list. The venue is an indoor and outdoor event and offer the attendee the opportunity to try well-known Canadian and Belgian beers as well as more obscure, but still excellent regional beers. It is also interesting to see very well-known U.S. brewers in attendance drinking beers along with the festival goers.
#5) Belgium Comes to Cooperstown, Ommegang Brewery, Cooperstown, NY
Not the biggest, not the most excitement, but still an excellent beer festival. Usually held on the third weekend in July, this festival is all about Belgian and Belgian style beers. The festival offered 2 different ticket options. The VIP ticket allows the ticket holder to camp out Friday and
Saturday evening, entry into the Friday night dinner and early entry into the festival on Saturday. Regular tickets are for admission to the festival Saturday and BBQ Saturday evening. Usually the the VIP tickets sell out in less than few minutes and regular tickets less than 2 hours. Over 200 different beers are served Saturday and after the tasting festival there is a BBQ, music and a bon fire.
#6) American Craft Beer Festival, Seaport World Trade Center, Boston, Ma.
Normally held the first weekend in June, the ACBF is sponsored by Beer Advocate and Harpoon Brewery and features over 100 breweries and 500+ beers, making it one of the largest

festivals on the East Coast. This is but one of many beer events that Beer Advocate puts on each year, but this is the biggest by far. The venue is large and tickets are limited so you normally don't have to wait 20 minutes for a particular beer (unless you're looking for that very special one that everyone else is looking for.) But for a young festival, this one is epic. And, considering who is putting it one, it's no wonder.
#7) Belgian Beer Fest, Cyclorama, Boston, Ma
Another 'epic' festival sponsored by Beer Advocate and this one features only Belgian and Belgian style beers. This year it will be the first weekend in September.  The BBF features 3

sessions. One; on Friday night, features over 50 unique, funky, sour and otherwise excellent beers for that discriminating palette.  Saturday there is an afternoon session and an evening session featuring over 125 Belgian beers. If you want to know more about Belgian beers, this is the event to attend.
#8) World Beer Festival, Durham Bulls Athletic Park, Durham, NC

Usually held in early October, the World Beer Festival Durham features over 100 breweries serving over 300 beers. Sponsored by All About Beer magazine, this festival offers local and regional beers as well as international selections. Recently it has expanded to other locations at different times, such as Raleigh, Richmond Va. and Columbia SC.  This is a great festival promoted by folks that know 'all about beer' and is one of the premier beer festivals in the South. By the way; most of the profits go to charity.
#9) Savor, National Building Museum, Washington, DC
OK; Savor is not a beer festival; but it IS a beer event and it does feature numerous Belgian style beers. The thing that makes this 'event' unique is that every beer served at Savor, is paired with a food item or dish. Normally taking place the first weekend in June, this relatively new event has sold

out in record time for each of the past events. Over 50 breweries are in attendance and each brings 2 brews to pair with a dish. Each brewery has the owner and/or brewer in attendance, so questions can be presented as to how the beer was brewed, or how the choice of paired food was selected. More and more, Belgian festivals are featuring food pairings, so this is a great start in the right direction for a U.S. event.
#10) Ebenezer's Pub Night of Great Thirst & Belgian Beer Festival, Lovell, Me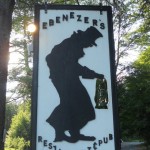 This is more an 'event' than an actual beer festival, but it is what one makes of it. The main fact is that Ebenezer's entire concept is all about the Belgium beer. So in mid-August the owners break out all the stops and bring out their best Belgian offerings for a week of great beers and the focal point is a Saturday event called the Night of great Thirst. The 'original' Night of Great Thirst is an excellent beer festival in Belgium that focuses on lambics, gueuzes and other naturally fermented brews. So, this is Ebenezers take on that festival. (For more info on the original festival – see my Top 10 Belgium Beer Festivals.) Visitors to Ebanezers event are encouraged to camp out for the weekend so that they can be on hand for each release. Watch their web site for the next dates. Here is what Ebenezers says about the event: "The festival runs August 19th – 28th with different guest breweries, tastings, 35 rare Belgian drafts changing daily, Imported Belgian cheeses, chocolate and traditional Belgian meals throughout the week."