In choosing my Top 10 in the restaurant category, there were certain guidelines. In most cases the restaurant should have some menu items that are prepared with beer. A 'beer degustation' menu is a plus. If it lacks both of these criteria, it should have a stellar beer selection. However, if it lacks all these criteria, but is a once in a lifetime experience, I will list it .
#1) De Heeren van Liedekercke, Kasteelstraat 33, 9470 Denderleeuw
Denderleew is 19 miles Northwest of Brussels, so it's a slight drive or cab ride, but one of the best investments you will ever make. De Heeren is a
world class gastronomic experience. They serve
everything from pub style snacks all the way to a full haute cuisine dinner. Many of the menu items are prepared using fresh ingredients and many are prepared with beer. De Heeren has an extensive selection of beer – 5 taps and over 300 bottles and they specialize in lambics, geuezes and Orval. Some are asking – how do they 'specialize' in Orval when there is only one beer? De Heeren is an Orval Ambassador, which is a designation that they have had training by the brewery on the correct cellar temperature for the beer, the correct glassware, the correct pouring and serving method and other criteria including the requirement that they have several years 'vintage' Orvals always on hand. This is one of a very few places where one can try numerous vintages of Orval side-by-side. A definite stop for any true beer traveler.
#2) T'Hommelhof, Watouplein 17, Watou
Chef Stefaan will welcome you like part of the family at this fantastic restaurant. A highly memorable day in your life would consist of a room at the nearby Het Brouwerhuis at the St.

Bernard brewery and a dinner at this wonderful restaurant.
Stefaan loves experimenting with beer infused creations and has different specials each night. Two of my favorite standards are the Leg of Ham stewed in St. Bernardus Tripel and Rabbit Stew with Het Kapittel Blond. Plan to spend some time here and enjoy every minute. Once again, this will be a lifelong memory.
#3) Restobieres, 32, rue des Renards, 1000, Brussels
OK, you want beer cuisine? This is the place. Most restaurants that state they offer beer cuisine, have a few dishes that are made with beer; usually no more than 25% of the menu. Well,

Restobieres breaks that rule. One will be hard pressed to find much of anything on their menu that is not made with beer. And most of the dishes are excellent. Yes, it can get a bit loud and service can be a bit slow at times; but this is expected in a fantastic restaurant in the middle of a metropolitan city. If you want quiet, try Comme Chez Soi. The only drawback if I had to mention it is that the beer offering is not very extensive; but they do have some unusual beers to try.

#4) De Wijngaert, Wijngaardstraat 15, 8000 Bruges
I dine here every time I am in Bruges. It is quaint and cozy and chef Karl Kinds grilles your order over a unique open fire grill in full view of every diner. An ample menu of seafood and meats along with numerous appetizers and exquisite desserts. Their beer selection is limited, so I always hit the Bieratelier Brugge next door for a great selection of beers before dining. De Wijngaert does have Cristal and Bruges Zot on draft and about a dozen bottles including Straffe Hendrik, Duvel, Orval, Westmalle, Grimbergen and others. I have had both seafood and steak here and they have always been excellent meals. (Note: Please don't order the Tomahawk steak unless you are sharing or a VERY BIG eater…it is huge!)
#5) t' Vleterhof, Kruisboomstraat 4,Oostvleteren
This excellent restaurant is well off the beaten path, but they have excellent food and have man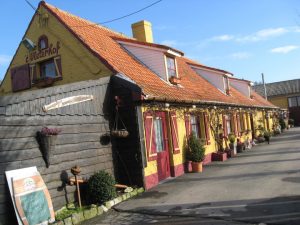 y dishes made with beer. It is within close proximity to both In De Vrede and Struise Schoolhouse. I highly recommend the baby back ribs and the stew. They have numerous excellent beers but they do specialize in Struise beers. While I have dined here many times, I am unclear as to their open hours. If they happen to be closed when you arrive hungry, about 5 minutes away is t' Melenhof, another fantastic restaurant almost caddy corner to the Struise brewery location.
#6) Auberge de Poteaupre, Rue de Poteaupré 5, 6464 Bourlers
This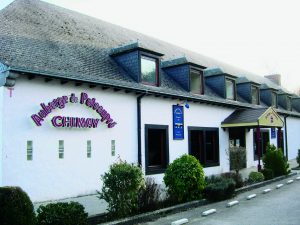 restaurant is the official tap room and restaurant of the Chimay brewery and several of their creations are made with Chimay beers. If you do visit and don't try the cheese quiche, then you might have well not stopped; this is incredible. I have tried about a dozen different dishes off the menu and they are all world class. There is also a small museum in the building with all types of beer memorabilia that is very interesting. It also gives a good overview of the history of the monastery which is located about a half mile away.
#7) Brasserie Cambrinus, Philipstockstraat 19, 8000 Bruges
An excellent place to enjoy a great meal along with your selection of over 400 different beers as well as numerous beers on draft. The menu is wide and varied and offers something for everyone. Please decide to start with their beer sampler while you peruse the expansive beer menu. They do not take kindly to coming to your table while you read the pages and pages of beers available. Get the sampler which is always great and then take your time selecting from the list.
Make sure you walk a couple of doors down to their 'newer' beer pub offering rarer beers both in bottle and on tap along with a great selection of meats and cheeses, or one of their great charcuterie platters.
#8) In 't Spinnekopke, 1 Place Jardin Aux Fleurs, 1000 Bruxelles
This was the first 'beer cuisine restaurant' that I had ever been to in Belgium back in 2001. It is a short stroll from the Grand Place in a quiet neighborhood. Upon first entering your senses will be filled with a delightful aroma and once your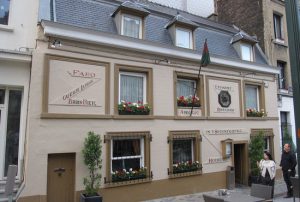 eyes adapt to the dim lighting, you will find yourself in a very original Belgian restaurant. Numerous dishes are made from regional beers and the selection is very good. I tend to think this is probably one of the 'original' beer cuisine restaurants in Belgium, but no matter – it is very good.
#9) De 3 Fonteinen, Herman Teirlinckplein 3, 1650 Beersel
3 Fonteinen is a combination restaurant, brewery and beer shop. This restaurant has everything a lambic &

gueuze lover would want right here. The beer cuisine is to die for.  The restaurant is open from noon until 2 in the afternoon and from 6 until 9.30 in the evening Friday through Monday. Closed Tuesday through Thursday.
While in the area, take a short drive over to their world class blendary Lambic-O-Droom located at Molenstraat 47, 1651 Beersel. open Friday and Saturday from noon until 8PM. Here one can choose from a selection of dozens of Lambics, Gueuzes and Krieks and enjoy them with some cheese from the area.
#10) La Bru'sserie, In Sanglier Hotel, Rue du Comte Theodule d'Ursel 14, 6940 Durbuy
One of 4 restaurants in this great hotel in one of the most picturesque towns in Belgium. This specializes in tapas and yes, you will get full on tpas. If you have a greater hunger, there is a wagyu staeakhouse here as well as well as an upscale Belgian restaurant and an Italian restaurant serving all the standards including pizzas.
La Bru'sserie features dishes from Belgium,Asia, Spain, Provence, South America and others. Their menu is expansive and offers something for everyone. Their drinks menu focuses more on wines and mixed drinks and cocktails but they do offer a nice selection of beers including one from the local Durbuy brewery Durboyse and they offer a blond, bruin and tripel as well as Orval and 2 of the Rochefort beers among others.
Honorable Mentions – Comme Chez Soi, Place Rouppe 23, Brussels
Considered to Number 1 restaurant in all of Belgium and one of the top restaurants in Europe. Comme Chez Soi opened in 1925 and has been packing the house since. They serve French cuisine of the highest caliber. This place is not for people on a budget; it IS for those that want a once in a lifetime culinary experience. As a self-professed beer evangelist, normally I would not list Comme Chez Soi, since they do not do beer infused recipes nor do they have a decent beer list; but they are an excellent restaurant.

Also, try Le Bier Circus, rue de l'Enseignement, 57, 1000 Brussels
A short walk from the Grand Place, where the visitor will find an extensive beer selection, great bar type snacks and a small menu of dinner items including some beer cuisine. The owner, Patrick d'Hane is a beer lover and has the Orval Ambassador designation for his pub.
Also, I removed De Karmeliet, Langestraat 19, 8000 Brugge, from the Top 10 list; not because they are not an excellent restaurant AND they do prepare some dishes with beer, but over the years they have become one of Europe's top restaurants with 3 Michelen stars, and along with this recognition came the crowds and naturally the price went up…and up.. and up. The chef, Geert Van Eecke, is world renowned and it was under his guidance that De Karmeliet became one of only three restaurants in Belgium to receive the three stars. If you have never been to a Michelen restaurant, I would highly recommend this. It is some of the finest food served anywhere in the world and the service will make you dizzy and you will definitely leave satisfied; but at a very high cost. If money is no object, please try it out.