OK. The traditional question. "What is your favorite beer?"
This is usually a hard question to answer for most. Since I have had the pleasure of traveling numerous times throughout Belgium, my favorite beer or beers are not something that I can choose easily, but I will attempt to provide what I feel are the best offerings in Belgium. Please keep in mind that this 'list' might change periodically and I will try to update it as something new hits my taste buds. Also, Westvleteren 12 has, and always will be, my favorite beer on the planet…and I also enjoy most other Trappist beers; so I separated them into their own 'Top 10' page to make this list one of beers that my readers can usually find.
In an effort to not populate the list with many beers from one brewery, I will only list my favorite beer from each brewery. I may like 2, 3 or 4 or more beers from one brewery; but will only list my favorite. Be aware that usually, if a beer listed comes from a particular brewery, you can usually be sure that the other beers produced by the particular brewery are also exceptional.
#1) Struise Pannepot Grande Reserva Oak Aged
I first tasted beers brewed by Struise in 2006 and it was love at first sip.
I have tried numerous beers brewed by these mad genius's, but while visiting Urbain and Phil during a brewing of Pannepouet in late February 2008, Urbain opened a bottle of this beer and shared it with me. The beer poured a very dark brown and the aroma, oh, the aroma! I was hit square in the senses with notes of chocolate, dark fruits, cinnamon, five spice, coffee and the sour appeal of a Flemish sour beer, but more subtle. All this as well as some very nice oak aromas. The flavor profile is incredible. Wonderful notes of chocolate, dark fruits, spices, coffee mingled with nuances of multi-dimensional wood flavors; not in your face but subdued due to the rich malt quality of this beer.
When I first tasted this beer I thought to myself; 'This is the finest beer I have ever tasted.' The only reason I do not rate it number one, is because, while still a world-class beer, I prefer Westvleteren 12 slightly more. Although the time and place when drinking this beer for the first time added to the overall appreciation of it, there is still something about Westvleteren 12 that entices me a slight bit more.
It is unfortunate that this beer is not readily available in the United States. I do find it from time to time, but have to rely on my allotment when returning from Belgium to get me through to the next trip.
This beer is aged 24 months; 14 on new French oak and then transferred to Calvados oak barrels for an additional 10 months. If you can find this beer, buy it and either drink it or save it for a year or ten…or twenty.
As per my earlier statement, ALL the beers from Struise are excellent and are ALL world-class.
#2) St. Bernardus Abt 12
This great beer has many of the characteristics of Westvleteren 12, but is not quite as complex, but
still a world-class beer. For decades, St. Bernard Brouwerij in Watou brewed the Westvleteren range of beers for the Abbey to take care of consumer demands. When the Trappist designation became a strict appellation a requirement was that the beers had to be brewed within the monastery, ending the arrangement with St. Bernard. Today St. Bernard brews a half dozen beers each unique and each excellent.
The Abt 12 ale pours a dark brown and has an incredible dense off white head. Aroma carries notes of rich dark fruit, coriander, allspice, orange peel and chocolate, bread and rich malt with a nice floral hop nose. The flavor is fantastic and carries through with rich dark fruits, chocolate and spices. I had the pleasure of helping brew a batch of Abt 12 with then brewer Bert Van Hecke in 2006. Bert left the brewery shortly after my visit and now the brewery is owned by Hans Depypere and Marco Paserrella manages all marketing for the brewery.
#3) Gulden Draak
I love all the Brouwerij Van Steenberge beers.
All the Van Steenberge beers have very distinctive tastes and other excellent beers are Piraat,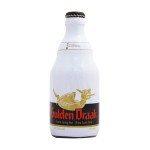 Augustijn, the Bornem beers, Monk's Cafe, Garre Tripel and many others. The brewery has been in existance sine 1784…so they must be doing something right!
The brewery classifies Gulden Draak as a 'dark tripel'; I have always considered it to be more like a Quad, rather than a dark tripel. The beer pours a dark reddish brown with a full head of tight dark tan foam. The aroma has notes of dark fruits, toffee and some spices. The flavor is outstanding with complex character including figs, plums, toffee, and some nice spices with the alcohol well hidden for a 10.5% beer. The finish is semi-sweet with a nice lingering malt character.
This is truly a world-class beer; but then again, so are all the Van Steenberge beers.
#4) Gouden Carolus Cuvee de Kaizer Blauw
This beer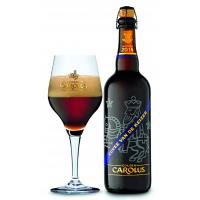 is mentioned in my Top 10 Breweries. It is brewed by Het Anker Brewery in Mechelen once a year on February 24th. It is a dark strong ale similar to a quad with an excellent aroma of dark malts, dark fruits like figs, dates, raisins, toffee, dark sugar and notes of aged port. The flavor is very complex with all the aromas coming through in the flavor. The aftertaste is rich and sweet with some slight licorice character mixed with a dark fruit melange.
All the rest of the Het Anker beers are excellent, but this one really shines in my opinion.
#5) Rodenbach Grand Cru
The Ro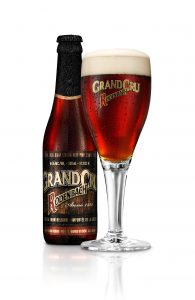 denbach Brewery has been in business in Roeselare since 1836. The brewery has 294 Oak casks or foeders where the beer is conditioned giving it it's unique oakey lactic character. Rodenbach Grand Cru consists of 1/3 young beer and 2/3 beer matured two years in oak. The beer pours a reddish brown with a light wispy head. The aroma is very rich and lactic with tart black cherry notes and some port wine character. Mouthfeel is very effervescent with a lingering lactic sour cherry finish. The result is a complex beer with a great deal of wood and esters, vinous and with a very long aftertaste, just like a Grand Cru wine.
#6) Cantillon 100% Lambic
The entire range of Cantillon beers are unique and exceptional. The brewery has been in existence since the 1800's after experimenting with brewing an all natural product with spontaneous
fermentation and then bottling uing Champagne yeast.
Lambic, which is the base for the making of Gueuze, is a spontaneous fermentation beer. All beers made with Lambic are naturally sour, but some will be more sour, more bitter or "softer" than the others. Cantillon Gueuze is the result of a well-considered blending of Lambics of different ages and with different tastes. All Cantillon products are aged in oakwood barrels and are called "young" after one year; but they will reach their full maturity after three years. The young beers contain the sugars which are necessary for the second fermentation in the bottle. The three years old beers will contribute their taste and their flavor.
Cantillon 100% Lambic is a masterpiece of brewing skills. It pours a grassy light lemon yellow with a slight cloudiness and a nice tight white head. Aromas include the traditional 'barnyard character' along with nice notes of citrus; especially lemons & grapefruit, with a nice acidic note, and notes of grains. All of these aromas are melded together in the flavor and the beer finishes with a nice crisp clean tartness which lingers for a period of time.
#7) Malheur Brut Reserve
Malheur beers are brewed by De Landtsheer Brewery. The Brut Reserve is produced using the Champagne method which means that the bottles are stored at cave temperature in an inverted position. When the beer is properly aged the temperature is lowered until the beer (and all residual dregs) is frozen in the neck of the bottle. The 'plug' is removed and the bottle is corked.
Brut Reserve pours a golden straw color and produces a huge head that remains for some time. The aroma is very complex with notes of malt, straw, fruit, pepper and mild notes of tobacco and oak.
The taste is a wonderful complex cornucopia of a malty herbal fruity carbonated wonder. It is sweet, but not too. It is dry, but not too. It is hoppy, but not too. Maybe brewer Manu Landtsheer should rename it 'No Too Ale". It finishes with a wonderful sweet dryness with a slight peppery note. Wonderful!
#8) DeDolle Dulle Teve
DeDolle Brouwers (The Mad Brewers) is owned by the Herteleer family who purchased the 150 year old brewery in 1980. Brewer Kris and his wife Els run the brewery and mother Moes gives the tour
each Sunday. This is one of my favorite visits in Belgium and the Herteleers are wonderful people.
Dulle Teve means 'Mad Bitch' in Flemish and there is more that one story as to where the name originated. You will have to visit to find out which one is correct.
I would consider Dulle Teve a Tripel on steroids. It pours a wonderful hazy golden color with a full head. The nose produces straw, citrus fruit (heavy on the grapefruit) some faint pineapple and pears, herbs, some bread, some honey – -will it ever end??
The taste is incredible. Another complex mixture of fruits, hops, earth, candi sugar, herbs and alcohol. It has a great finish that leaves faint traces of fruit and straw that lingers and begs you to have another taste.
This is a 'World Class" Tripel.
#9) Girardin Gueuze 1882 Black Label
The main problem with listing my Top 10 favorite beers is that I could easier list my Top 10 in each style category.  I never realized how difficult it is to actually decide which 10 beers I like the best. I love al
l Gueuzes and Lambics (at least the real ones) and to pick one that I love over all others was a daunting task. Hanssens is great, as well as 3 Fontinen, Cantillion and Tilquin; but if I had to pick 'a gueuze to bring to the desert island' it would be Girardin 1882 Black. This Gueuze pours a golden color (like straw) and produced a rocky head that exhibits small flecks of yeast and particulate. The head fades quickly leaving a nice ring of sediment around the top of the glass. The aroma of this unfiltered Gueuze is fantastic. The initial barnyard and horse blanket smell give way to a tart fruity mix of herbal excellence combined with some lactic aroma, wood, grain, bread and actually makes your mouth water profusely with the expectations that you will quench the saliva with this great tonic. The taste is what one would expect in a great Gueuze. There is the initial mouth puckering with an explosion of flavor. One detects notes of citrus, musk, floral hops, wood and funk, spices, pepper, grass, and Granny Smith apples. The finish is a dry grapefruit like mouthfeel and a lingering finish where one can faintly detect all the above attributes.
#10) Duvel
Duvel is one of my main 'go to' beers and I have told people that this is my real 'lawnmower' beer. Produced by Duvel Moortg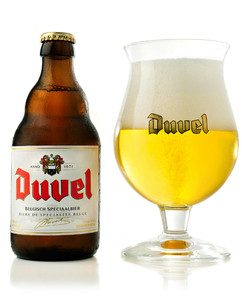 at brewery in Breendonk, north of Brussels, Duvel has been one of the top selling Belgium beers for years.
Duvel has it's own special goblet that is recommended as when the beer is poured, it produces a huge white fluffy head that lingers for a very long time. When poured into other glassware, a similar head is produced, but not as dramatic, not as long-lasting as in it's original chalice.
The aroma is very rich grains with some great spice character with some green apple and citrus notes. The mouthful is very effervescent with a cleansing character. Finish is crisp and spicy.
Honorable Mention #1 Saison Dupont
I

had to mention a couple of 'honorable mentions' since both of these beers are also two of my favorites. Saison Dupont is a classis saison, or farmhouse ale by which all other saisons are compared. It is a very dry ale with floral notes of citrus, bread, and fruits.  The effervescents is nourishing and refreshing—a popped cork brings forth a hazy straw yellow ale with a fluffy white head that almost begs to be scooped with a finger. As brewers around the world try new things with saison, adding new ingredients and whatnot, it's imperative to take time and appreciate the classic.
(Honorable Mention #2) Rodenbach Vin de Cereal

This is another very hard to find beer and might not be to the liking of everyone; but I loved this beer, but I use the term 'beer' lightly as this is closer to a wine than it is a beer.
Pours a golden orange color with almost non-existent head with virtually no lacing. Aroma is tart, notes of honey, light tropical fruit, some mild spiciness and some floral hop presence. Taste is incredible and very complex. Notes of mild honey, mild dark and tropical fruits, some mild spiciness and that wonderful Rodenbach yeast character that I have always loved that seemed to have dissipated in recent offerings from Rodenbach/Palm. If you ever see any of this beer, buy it. If you don't like tart beers, please e-mail me and tell me where you saw it.