This Top 10 will describe what I feel are my favorite beer sites. To be included in the list, the site or location must have some intrinsic interest to a lover of Belgian beer.
There will be quite a divergent variable here, but these are places that I would try to bring any visitor to Belgium to and would encourage any visitor to try to add as many of these places to their itinerary.

#1) Rodenbach Brouwerij, Spanjestraat 133-141, Roeselare
First off, I love Rodenbach beer. Since Palm bought Rodenbach, the beer changed and unfortunately, not for the better. While still a great beer, it has returned to soething close to it's original character…but when you start trying to cut corners; the beer will suffer.
However, the brewery IS a once in a lifetime experience. After a brief explanation of the history of Rodenbach and a short video; one enters the 'storage facility'. This is the heart of Rodenbach and what makes the 'Red Flemish Sour' style work. There are 294 oak storage tanks, or casks, here. Some of the casks are over 150 years old. Inside these casks flourish microorganisms that contribute to the lactic character of Rodenbach. It is dark and cool and mysterious in these halls and one knows that inside these casks sits some great beer. During the tour, your guide might stop and 'tap' one of the casks and let you try the still fermenting ale; but this is not part of the regular tour…just a special surprise. After the tour everyone gathers for a sampling of Rodenbach and Rodenbach Grand Cru. During my first tour I was fortunate enough to sit at a table with 8 others that didn't particularly like Rodenbach, so I was obligated to consume their samples so it would not go to waste. That was MANY tours ago.

#2) Cantillion, 56 rue Gheude, Brussels
Cantillion Brewery was established in 1900 and should be a world heritage site. Cantillion is one of the few remaining gueuze/lambic producers left in Belgium and a tour of the facility is something that any lover of Belgian beer should experience in their lifetime.
The tour is self-guided and one can experience how spontaneous fermentation occurs in the process of making this great brew. The tour includes viewing the fermentation vessel in the attic of the brewery where the natural bacteria is introduced to the cooling wort as well as walking through the storage area where hundreds of casks of fermenting lambic are happily bubbling away. This is a funky dark damp area and will amaze you.
After the tour you will get to sample some of this great nectar.

#3) DeDolle Brouwers, 12b Roeselaerestraat, Esen
This is also one of my favorite brewery tap/cafés but it is also a historic brewery and a must do tour. If you are lucky, the tour will be presented by Kris, the owner. In days past, Kris's mother Moes gave the tours for many years and continued to do so until she retired…in her 90's. those tours were an incredible insight to the love of Belgium brewing. After the tour (Sunday afternoons only and by appointment) one can visit the café for a taste of these fantastic beers.

#4) Fantome Brouwerij, Rue Preal 8, Soy
Yes, I know I have Fantome on another list, but Dany Prignon's brewery is also a once in a lifetime experience. While Dany has brought in some modern fermentation vessels, his brew system is hand made and OLD. The entire brewery is in a centuries old building and is a great experience. Please keep in mind that Fantome is pretty much a one-man brewery, so if you would like a tour, please call or e-mail Dany and make proper arrangements. While the times of his café are posted on the Fantome web site, they are not real times, rather a rough variable guideline. Also, if you send the e-mail in French, the response might be quicker.

#5) Brouwerij Huyghe, Brusselsesteenweg 256, Melle (Ghent)
While the tour is great, the after tour is the best. Huyghe has a fantastic museum with some great brewerania. Either before, during or after looking through all this great 'stuff' you will be offered a sampling of some of the great Huyghe beers.
#6) Het Anker Brewery/ Gouden Carolus, Guido Gezellelaan 49, 2800 Mechelen
This is one fantastic brewery which offers an incredible tour, a fantastic brasserie where one can try ALL the Gouden Carolus range along with other well know Het Anker beers and they also have an on-site hotel themed after the brewery.
Brewing started here in the early 1400's during the Great Plague when the local hospital discovered that when they gave their patients beer rather than water, they were being healed. So the hospital started a brewery within the walls of their location. Brewing continued until 1872 when a family bought out the brewery and began to brew. In 1990, Charles Leclef took over management of the brewery, making him the fifth generation in his family to run the operation.
Gouden Carolus Cuvee Van De Kaiser Blue was first brewed on February 24th 1999 to honor the birth of Charles Quint, who was emperor over the region until his death in 1558. And it continues to be brewed on this date every year and the brewery hosts a huge celebration on this day inviting dignitaries in for the special brew day. It is quite the event. If you would ever like to be a part of it; start trying to book our place 6-8 months in advance because it sells out each year.
While all Het Anker beers are World Class, this one is one of the best beers ever produced. They also offer a version with whiskey infused. If you have never tried this beer; you need to find it and try it.
#7) De Halve Mann Brouwerij, 20 Walplein, Brugge
Another very old brewery dating to 1856, that has been through many changes over the past couple of decades, most recently a to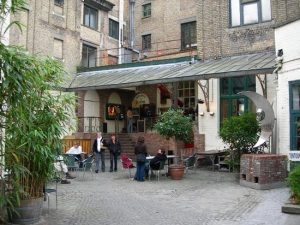 tal reconstruction of the entire brewey, the brewery right in the center of Brugge still offers tour of its facility and there is some great old brewerania here. The makers of Straffe Hendrik and Bruges Zot beers welcome visitors and will explain the history of the brewery and one can try the range of beers in their tasting room. While the new brewery is modern in character, the history is still evident. A couple of years ago, the brewery, as a loved Bruges heritage, was allowed to dig up all the ancient streets and lay pipeline to pump their finished product to a bottling facility outside the center of town.


#8) Brasserie a' Vapeur, Rue de Marechal 1, Pipaix-Leuze
This is said to be the last steam-powered brewery in the world. It is not open on a regular basis for tours, but on the last Saturday of the month at 09:00 they do open to the public and one can see the steam-powered generator that produces the power to run the brewery. They have guided tours the nest day at 11:00. If you have a small group and call ahead they offer a great lunch with all the beers for a nominal charge.
#9) Bruges Beer Experience, Breidelstraat 3, 8000 Bruges
Originally this was listed as the Belgium Beer Museum in Ertvelde, but the owner decided to close up his museum and donate all of his beer bottles, signage and brewerania to this newer establishment. Good, since it is in Bruges so no need to make a special trip over 45 minutes away to see the original museum.
This museum is on the small street that separates the Markt, where the Belfort stands, and the Burg, where the Church of the Holy Blood is located. It is directly across the small alley where De Garre is located.
The Bruges Beer Experience is an interactive museum where visitors can learn all about the history of Belgium beer and what it means to this country. They also offer a children's tour for kids 5-12 so the adults can enjoy their experience without worrying about the little ones. After your 'experience, you can relax in their bar and enjoy one of 16 different beers on draft.
Open 7 days a week 10 – 6:30

#10) National Brewery Museum of Belgian Brewers, 10 Grand Place, Brussels
Housed in the guild house of brewers on the Grand Place in Brussels, this is usually the only 'beer museum' that visitors get to see while in Belgium. It is rather small for the scope of the museum, but they do have some unique brewerania here and an informative informational presentation for the novice to brewing. Includes a beer that changes from time to time. Although this is the only building on the Grand Place that still houses the original 'business'; if you are a true Belgian beer lover, you may feel this museum is not worthwhile.
Open Wednesday through Saturday 11 until 6.