2017 Belgium King Beer Tour – 9 Days – 8 Nights – 12 Breweries – 2 Beer Festivals!!
February 25  – March 5, 2017
The Tour is Now Officially Sold Out!!
Day 1— Saturday February 25, 2017 – We depart Zaventem/Brussels National at 9:30AM and drive via luxury motor coach to Orval Abbey (Abbaye Notre-Dame d'Orval) is a Cistercian monastery founded in 1132 in the Gaume region of Belgium and is located in Villers-devant-Orval, part of Florenville in th
e province of Luxembourg. The abbey is well known for its history and spiritual life but also for its local production of the Trappist beer Orval and a specific cheese. We will have lunch at 'L Ange Gardien*, the café taproom for the Abbaye. Here we will al
so enjoy both the regular Orval beer as well as the Petit Orval, the lower alcohol version made specifically for the monks. After lunch we will walk to the Abbey for a walk through the original Abbey ruins dating to 1252 AD. After the walk through the ruins, we will join our guide for a guided tour of the famous Orval brewery*. (Note: Tours of Trappist monasteries are prohibited an
d normally Orval only accepts visitors for 2 days in September. This is a very special opportunity.) After the tour, we drive to the small village of Sohier for the Annual 'Festival of Beers', an event featuring over 150 beers from the region. There will be bar snacks available at the festival. Click here for a short video of the Belgium King Beer group from 2012 at the festival. We will remain at the festival for about 3 hours and then drive to the Castel de Pont-à-Less — our lodging for the next two evenings. (Note: This used to be a castle!)
Day 2 – Sunday February 26  — We depart the hotel at 10:30 for our next adventure. This will allow those that arise early to head into Dinant for a quick walk around. We will drive 45 minutes to the 'Smallest Town in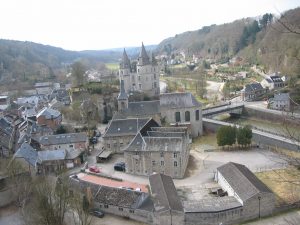 Belgium' – Durbuy…and also one of the prettiest in the region. Here you will have about 90 minutes to grab some lunch and walk around. At 13:15 we depart Durbuy for a short ride
to Fantome Brewery*,
one of the world's best producers of saisons. Owner, Dany Prignon, will give us a personal tour of this great little brewery and then we'll taste some of his creations. At 15:15 we drive back to the Dinant region for a tour of Brasserie Caracole*—makers of Troublette, Saxo and Nostradamus beers. After the tour we drive into
Dinant and will allow travelers 3 hours to wander the town and grab some dinner. We return to the hotel at 21:00.
Day 3 — Monday February 27 – We board the bus at 9 for a drive south to the Notre-Dame de Scourmont Abbey*, home of Chimay for a tour of the monastery and brewery. (Note: Once again, this is another clois
tered Trappist monastery and they do not normally allow tours…) Afterwards,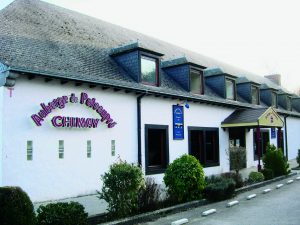 we will have an incredible lunch at the Auberge du Potaupre*, the abbey's brasserie. After lunch, we board the coach
for a great drive through the countryside to the South of Flanders and the area of Poperinge, Belgium's hop land and home to St. Sixtus Abbey/Westvleteren and De Struise Brewers. Here travelers have the option of staying at De Noordhoek, the farmhouse owned by some of the owners of De Struise brewers or at a local hotel. (Note: There is an upcharge to stay at the hotel.) Thos
e electing to stay at 'the farm' will need to understand that this is a semi-communal farm. There are 11 bedrooms with several types of beds…mostly double, but 5 bathrooms..so sharing is de rigeur. If you are uncomfortable with this arrangement, you are better off in the hotel. The advantage is that there will be De Struise beers on tap at the farm and a good chance Urbain or one of the other owners will stop by and get to know everyone. Please Note! The 'farm' will only sleep 20 people and that includes 3 bunk beds. So if the tour does happen to get over 20 people, the latest to sign up will be required to stay at the local hotel. Unfortunately, once the bus drops everyone off, there will be no way for the hotel people to 'visit' the farm and then return to their hotel as there are no taxis in the area.
The evening dinner is a TBD event. Before the trip commences I will poll the travelers and decide whether to eat at a fantastic local restaurant, or stay at the farm for a BBQ. Majority will decide.
Day 4 – Tuesday February 28 – We depart @ 9:30 for In De Vrede, official café and tasting room for St. Sixtus
Abbey, home of Westvleteren beers. You will be able to taste all three of their beers and if lucky, buy some bottles for your suitcase. We will also be able to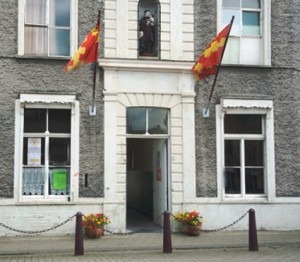 enjoy some nice café food here. At noon, we will drive a short distance to De Struise Brewers*, for a tour of the schoolhouse brewery and a tasting of their beers. 15:00 we will depart the brewery and drive to St. Bernardus Brewery* for another tour and tasting and from there drive a short distance to T' Hommelhof*, an awa
rd winning restaurant and one of the highest acclaimed restaurants in Europe for a gourmet feast! The owner/chef is one of the original creators of beer infused cuisine. We return to the lodging when we're full and happy!
Day 5 — Wednesday March 1 – We leave De Noordhoek at 9 for a drive to Rodenbach Brewery* for a tour and tasting and then lunch* at the brewery. After lunch, we travel to Bruges, rated the most

romantic
city in the world. Your hotel for the next three nights will be at the Novatel Bruges Centrum, a beautiful modern hotel right in the heart of town! Bruges was one of very few towns that escaped the destruction of the 2 World Wars so most of the buildings are original from medieval times (but not our hotel!) Your afternoon and evening are free, but there are 2 great breweries in town as well as shopping…and BEER! Bruges will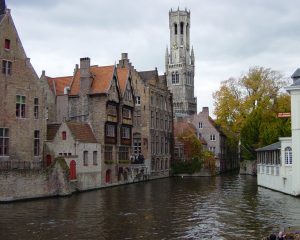 be our home for the next three evenings.
Day 6 — Thursday March 2 – We depart Bruges at 9:00 and head to Van Steenberge Brewery* for a tour and tasting.
Van Steenberge produces over 60 fantastic beers including Augustijn, Bornem, Piraat, Gulden Draak and others. After the tour we
will drive into Ghent and you will have a couple of hours to have lunch, see the sites including Gravensteen Castle, built in the late 11th century and is one of the most beautiful castles anywhere. You can also visit St. Bavo's Cathedral where the original Adoration of the Mystic Lamb by Jan van Eyck is on display. At 14:30 we board the bus and return to Bruges. The rest of the day is free to do as you please. Bruges is home to De Halve Mann Brewery, producers of the Straffe Hendrik and Bruges Zot beers as well as Bourgogne des Flandres Brewery. 
There is also an excellent beer shop & pub called De Bierboom where the owner – Rudy makes some very nice and unique house beers.
Day 7 — Friday March 3 – Board the bus at 9:30 and drive to Brabandere Brewery* (formerly Bavik) for a tour and tasting of their
beers including the range of Petrus beers.
From here we will drive to the Alvinne Craft Beer Festival where you can
sample over 150 beers from breweries from all over Belgium. Many beers are created especially for this festival! They have some fantastic food trucks at the festival. Your admission will be covered by the tour, but tasting tokens are each person's responsibility…..but as a side note – you will want many!
At 17:30 we return to Bruges where you can enjoy your last evening in this beautiful city on your
own. (Please note: The reason for so much free time will become evident once you are in Bruges. I will be available for walks and recommendations if anyone desires…but past tours had people sad that they were always going on beer tours and leaving Bruges behind every day…
you will appreciate the free time!) A special map will be provided to all travelers to show you where the best spots are including some very special pubs. In Bruges you can visit the Onze-Lieve-Vrouwekerk (Our Lady Church), which has the second tallest brick steeple on the planet, and also houses the only Michelangelo

statue outside of Italy. The St. Salvator's Cathedral and the Basilica of the Holy Blood. You can also visit Café Vlissinghe, the oldest bar in Belgium, which opened in 1515 and has been continually open as the s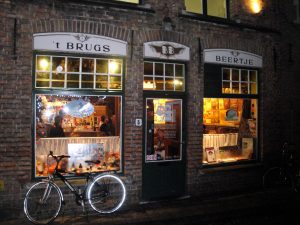 ame café since. And you have to get by the Bruges Biertje, my favorite beer bar in the world. Owner Daisy Claeys is the most fantastic beer lover anywhere! If anyone is interested, I will be there Thursday evening with local friends from 20:00 until ??
Day 8 – Saturday March 4 – We check out of the hotel at 8:30 and head to central Belgium to the Payottenland—home of lambics and gueuzes. Our first stop is the fantastic Lambik-O-Droom*, the

brewery, meeting center and tasting room for 3 Fonteinen. We will have a short tour followed by a tasting. Then we head to Oude Beersel for a tour of their cask roo
m and a tasting*. When finished there we will drive a short distance to Mechelen for our last night's lodging—at the Het Anker Brewery and Hotel; makers of the Gouden Carolus range of beers and others. After check in
we will have a tour of the brewery and tasting*.
The rest of the day is free to explore this great city.
Note!! For those that wish to explore Brussels or Antwerp, you can elect to skip this final tour at Het Anker and head to the train station or grab a cab and head out. Or go after the tour. Both cities are very close. A train leaves for Brussels every 7 minutes and to Antwerp every 8 minutes. Brussels is about 20 miles away to the Grand Place (Central Brussels) and to the Antwerp Zoo (Central Antwerp) about 13
miles. Travel Pros Tours and BelgiumKing.com is not responsible for either of these options and travelers understand that they are making these excursions at their own cost and risk.
Day 9  Sunday March 5 — Parting is such sweet sorrow, but for those heading home this morning, the bus will depart the hotel at 6:30 and drive to Brussels National for our departures. Some will stay behind to revisit places that really moved them…the ones going home will do so with a lifetime of memories.
_______________________________________________________________________
The 2017 Belgium King Beer Tour is a Land Only Tour and includes all coach transportation, all lodging, entry into all locations designated by an asterisk, breakfast each morning (except arrival day and at the 'farm' where it is self-catering) and those lunches & dinners as noted. Cost is $1845 P/P Double Occupancy. (Single Supplement is an additional $450**)
Cost is based on the 12 month average of the Euro exchange rate at the time of printing (1.18) and a minimum tour group of 20 people. (Note: There is a maximum tour size of 26; once that is reached no other reservations will be accepted.) Any drastic change in the exchange rate or a tour group less than 20 will require an up charge be applied. As of this printing, if the group is between 15-19 then the upcharge will be an additional $135 PP. The tour will not take place if a minimum of 15 travelers is not obtained.
** No Single Supplement at De Noordhoek.
For more information please contact baidist@aol.com.
See contract here.  belgiumking17_reservation_form